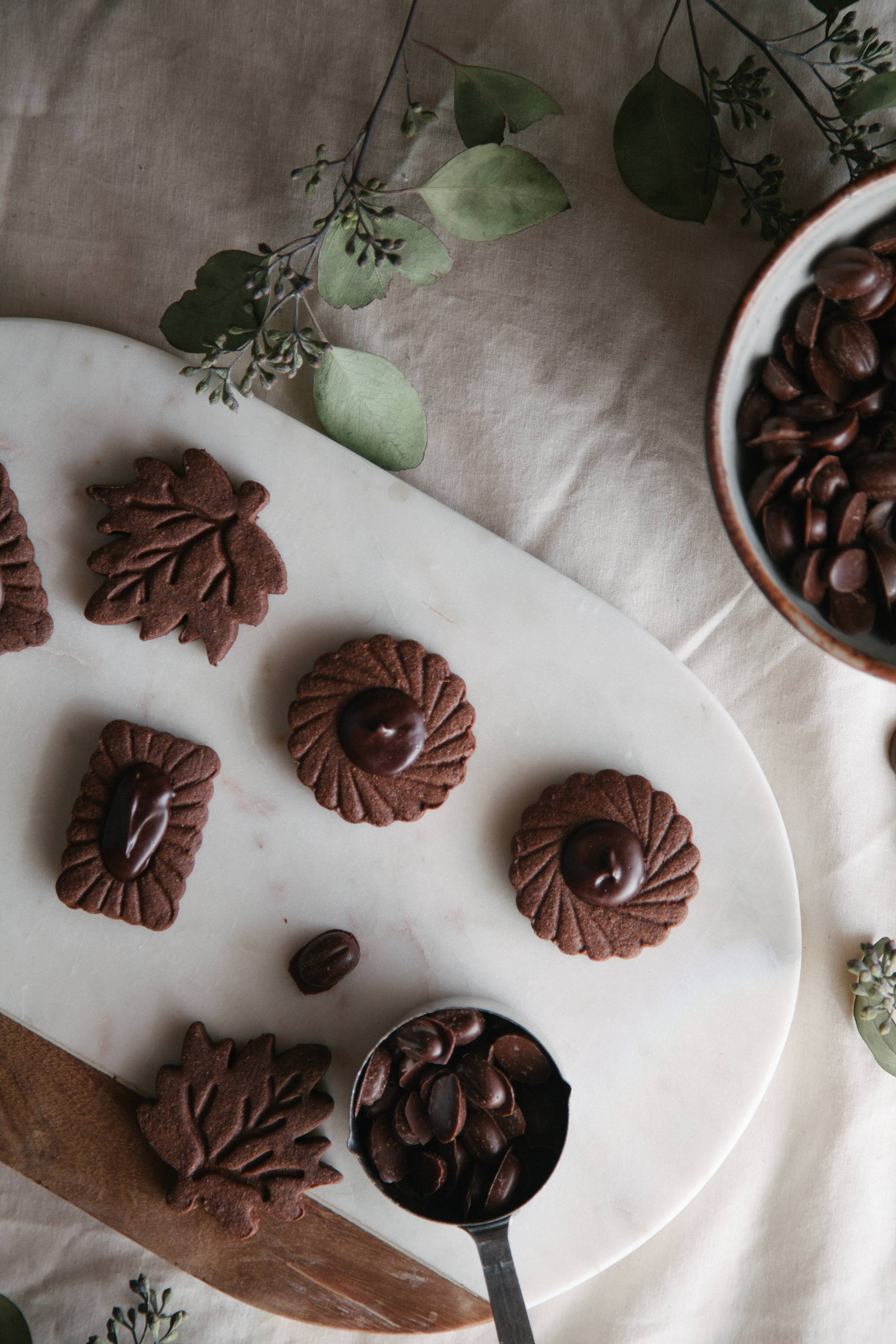 I usually don't have the time to frost sugar cookies, but these are delicious without. Or I use a thumbprint cookie press and fill the print with a spoon of ganache after baking. Also, if I don't need the whole batch at once, I'll freeze half of the dough for up to a month and defrost in the refrigerator overnight before using.
INGREDIENTS
2 1⁄3 cups (280g) all-purpose flour
1⁄3 cup (28g) sifted Dutch-processed cocoa powder
1⁄4 tsp salt
3⁄4 cup (6 Tbsp, 170g) unsalted butter, softened
1 cup (198 grams) granulated sugar
2 large eggs
2 tsp espresso powder
1 1⁄2 tsp pure vanilla extract
6 ounces (170g) Dick Taylor baking chocolate (chopped)
Ganache (optional)
1⁄2 cup (113g) heavy cream
2 tsp light corn syrup
4 ounces (113g)
Dick Taylor baking chocolate
DIRECTIONS
Cookies
Melt chocolate in heatproof bowl set over saucepan filled with 1 inch barely-simmering water, stirring occasionally (alternatively, heat in microwave safe bowl on 50% power, stirring every 30 seconds until melted). Set aside
Sift together the flour, cocoa, and salt. Set aside.
Using electric mixer, mix butter on medium-low speed until it is creamy and lightened in color. Add the sugar in a steady stream, and beat until thoroughly combined. Add the egg, espresso, and vanilla. Scrape down sides of bowl as needed, then mix in melted chocolate.
Reduce mixer speed to low and blend in dry ingredients in two additions, mixing only to combine after each addition. Do not over-mix.
Remove dough from bowl and divide into quarters. Form each quarter into a 4" disk and wrap in plastic, refrigerate for 30-40 minutes or until firm enough to roll. You should be able to leave an imprint when you press dough. While dough is chilling, position rack in center of oven and preheat to 350°F.
Have ready two cookie sheets lined with parchment paper. Working with one-fourth of dough at a time, roll on a lightly floured flat surface until 3/16" thick.
Using a 2 1/2" round cookie cutter or a cookie cutter of your choice, cut cookies from the dough.
Carefully place on cookie sheets and bake, one sheet at a time, for 9-10 minutes.
Transfer cookies to a wire rack while still warm, and cool completely. Repeat with remaining dough.


GANACHE
Place shredded or chopped chocolate into a medium-sized bowl and set aside.
In a small saucepan, heat heavy cream and corn syrup on low heat until it comes to a gentle boil. Immediately pour hot cream over chopped chocolate. Let it stand for about 1 minute, then stir chocolate and cream together, slowly mixing until all chocolate is melted and mixture is fully emulsified. Spoon onto cookies. Let ganache set before serving
Tip:
In a pinch, if you don't have unsalted butter on hand, for each stick (4oz) of salted butter used in the recipe just subtract ¼ teaspoon salt from amount the called for.